LATEST NEWS
The ICM audio will be changing format shortly.

Currently audio is available as Adobe Flash audio. ...

High frequency fluxgate data (100S/s) is now available from our autonomous stations at Prince Albert,...
Listen to Spectra!
You can now listen to spectra obtained by the CARISMA induction coil magnetometers. Listen to the tweets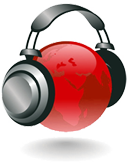 of EMIC waves, the rumbles of substorms and more of the ionosphere's greatest hits! Find the audio in our CARISMA data section.